A well rounded solution
- The new toric carbide endmill has it all
Mikron Tool expands the successful CrazyMill Cool P&S milling cutter family,
developed for roughing and finishing operations, with a toric version. The new tool combines the strengths of milling and drilling and is designed for machining stainless steel, titanium, CoCr alloys and superalloys. Like its cylindrical predecessors, this drill/milling cutter can plunge perpendicularly into the material up to 1 x d and then continue machining laterally. It mills slots and pockets in the tightest of spaces - with no problem at all. When a corner radius is required, it is in its element. The right tool for each shape.
It is available in the diameter range of 1 to 8 mm /.039" to .315" in the following two versions:
Type A: 2.5 x d CrazyMill Cool P&S Corner Radius, cutting length 2.5 x d, Z3
Type C:   5 x d CrazyMill Cool P&S Corner Radius, cutting length 2.0 x d, Z3 

A unique tool for numerous applications: Milling of holes, ramps, pockets, grooves and sides. Seemingly without resistance, the milling cutter plunges into the materials that are difficult to machine. It cuts powerfully with high precision, stability and excellent cutting parameters, even into the solid - effortlessly. Behind this perfection is a sophisticated technology composed of a multitude of factors.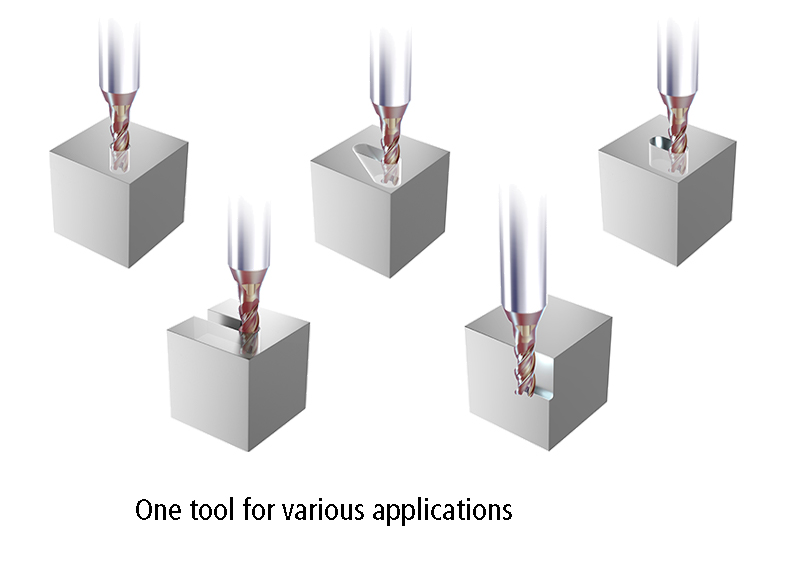 A geometry thought out in every detail
A new cutting-edge geometry enables process-safe, low-vibration plunging (drilling). The first task was to stabilize the center of the cutting edge, which must be sharp and robust at the same time. This caused quite a few headaches. An ingenious solution was found that reduces the risk of cutting-edge breakout while at the same time reducing the cutting force. The extra-wide chip space in the head section allows chips to be collected during the drilling process and evacuated laterally into the likewise extended flutes. Adjusted rake and clearance angles as well as stable cutting corners assure smooth wall finish and avoid breaking out of cutting edges due to vibration, which is one of the central difficulties when "drilling" with a milling cutter.
Keeping cool is the key
But that's not all. The cooling channels integrated in the shank direct the coolant straight to the cutting edges and guarantee constant and targeted cooling in every position. The cooled cutting edges allow high speed and feed rates. In addition, thanks to the massive cooling jet, the chips are continuously flushed out of the milling zone. This prevents the chips from remaining in the recess and being repeatedly chipped, which causes damage to the milling cutter and the milled surface. The result is long tool life and excellent surface quality.

Attention to the choice of materials!
For this milling cutter, our production specialists use a specially developed ultra-fine grain carbide, which is characterized by high toughness and meets all requirements in terms of mechanical properties. Thus, the robust carbide shank supports stable and vibration-free milling. Highest precision and surface quality are guaranteed.
The high-performance SNP coating not only increases surface hardness, but also enhances wear resistance and heat resistance. The sliding resistance during chip removal is also reduced to prevent the cutting-edge buildup. The result is optimum chip evacuation and a long tool life.
High performance becomes a matter of course
The combination of these factors enables impressive chip removal rates, which are possible thanks to the high cutting and feed rates and an infeed (ae) of 1 x d each. The drill milling cutter impresses with its long tool life and excellent surface quality, and this starting from a one-millimeter diameter. Here a few facts compared to commercially available tools:
Up to 5 x higher material removal rate

Up to 5 x less machining time

Up to 5 times longer tool life

Perfectly controlled chip removal

Excellent surface quality Ra

≤

0,5 µm (

20 in

µ)
It's surprising how much technology and power can be packed into such a small tool.
Very useful practical data
To enable maximum milling power, Mikron Tool clearly defines the milling processes and also provides detailed cutting parameters. In addition, milling strategies for creating keyways are listed according to their dimensions so that the right tool can be determined quickly. Throughout, these parameters have been proven in live tests with corresponding materials and individual tools.
Depending on diameter, different corner radii are available, as summarized in this table: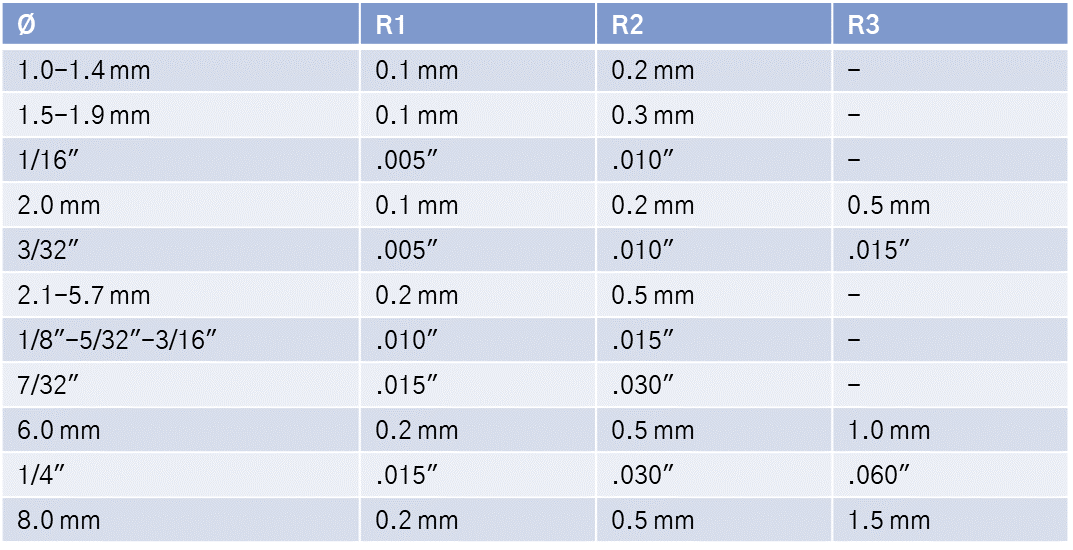 Would you like more information about this tool? Visit the CrazyMill Cool P&S product page.
And enjoy the performance video!