Eagerly expected
- The all-rounder NTX 1000 2nd Generation from DMG MORI has arrived
In June 2021, the time had come. The powerful machine park of the Mikron Tool Technology Center was increased once again. The team, which has now grown to staff of nine, is delighted by the arrival of the NTX 1000 2nd Generation Turn & Mill Machining Center (video). It's a combined machining and turning center for sophisticated components with focus on 6-sides-machining from bar stock. It enables maximum process integration for countless applications in volume production, primarily in medical technology, automotive industry, aerospace, and watchmaking industries.
This type of turning and milling center for complete machining, especially for high output production with a high degree of automation, is becoming more and more established on the market. In fact, the demand for cutting tools for this type of machines is continuously increasing.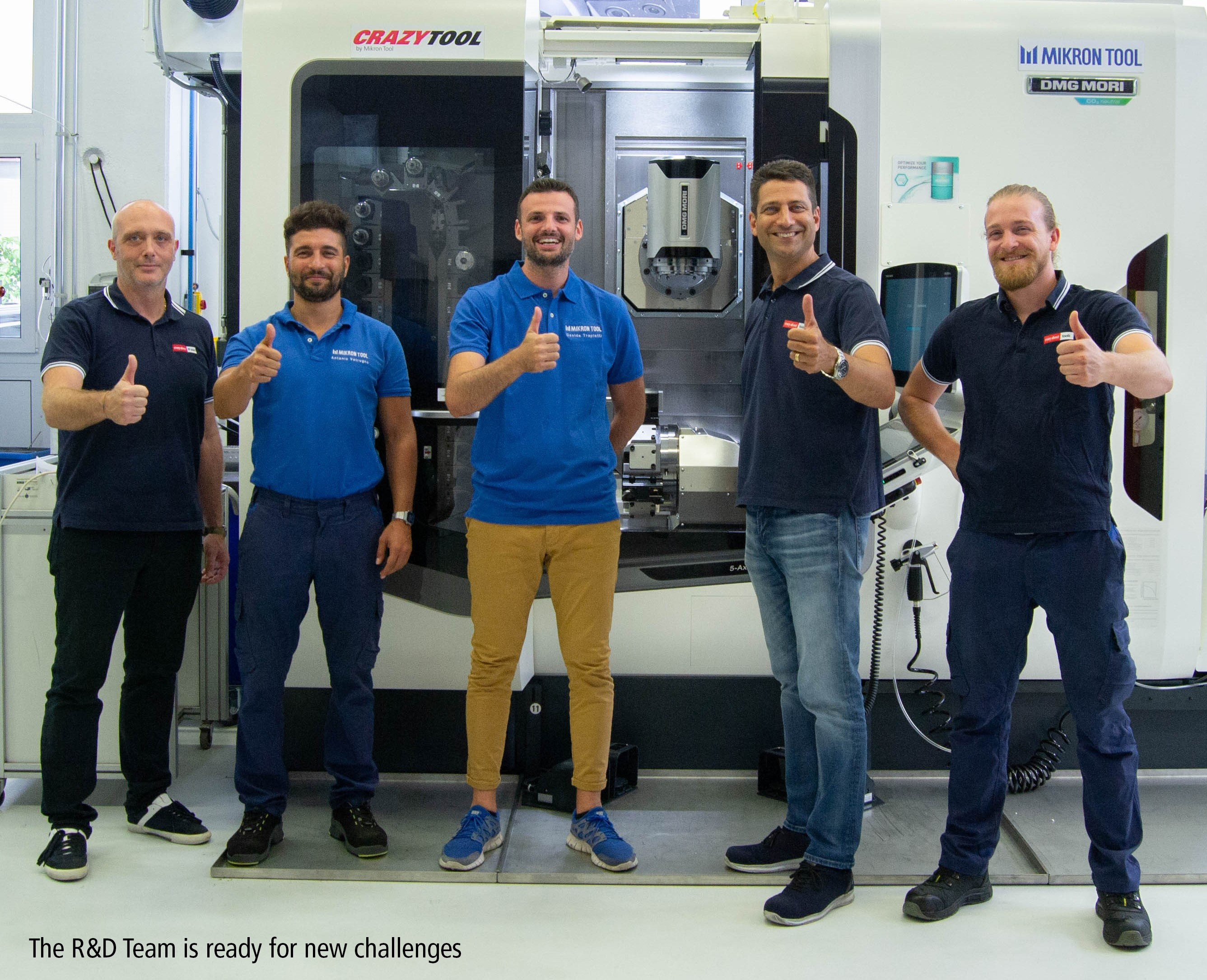 Dr. Alberto Gotti, head of the R&D department, is totally convinced of the machine's performance: "It offers high flexibility and thus a variety of productivity-enhancing possibilities. The turning and milling head has a magazine of 38 tools (expandable to 76) and can reach speeds of up to 20,000 rpm. The turret, the second tool carrier, has additional 10 tool positions, some of them duplicatable, and can work axially and radially. The live tools can go up to 10,000 rpm. The second spindle enables 8-axis machining, which means turning, milling, and drilling from all 6 sides. In this setting, our CrazyTools prove their efficiency in machining from bar stock. Always supported by integrated cooling, a crucial factor to achieve shorter machining times and longer tool life. Therefore, complex components can be efficiently machined even when dealing with difficult-to-machine materials."
Mikron Tool is the right partner to find optimal manufacturing strategies. Because Mikron Tool offers more than just tools. Our services include expert advice, from choosing the right CrazyTool to the development of the entire working cycle.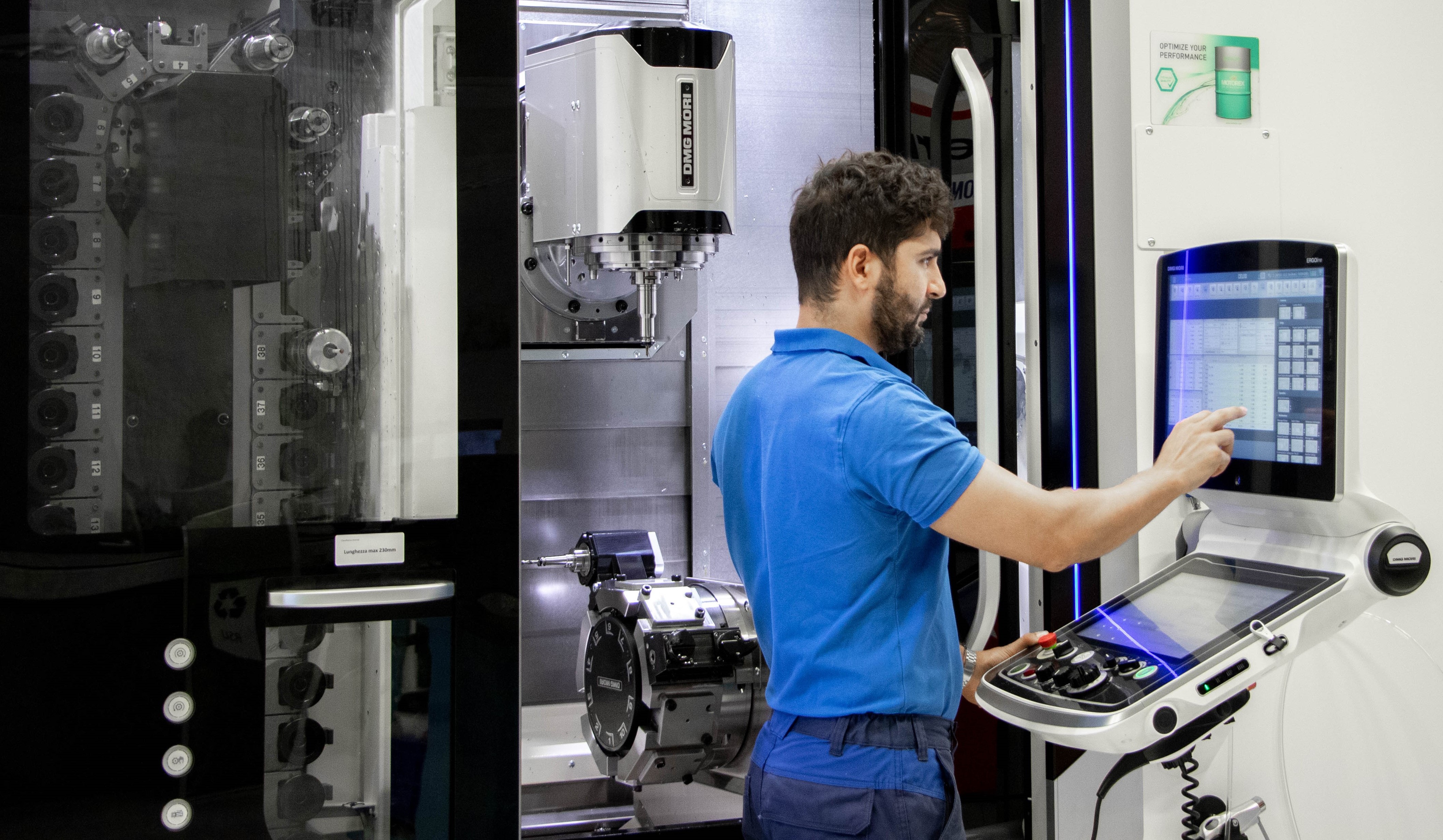 Finally, operational
Alberto Gotti specifies. "In fact, with this new machine, Mikron Tool is expanding its services to tackle demanding machining challenges. Our aim is to get to know the machine in depth and to squeeze the maximum performance out of the production technology in combination with our tools. And together with our experienced partners to exploit the machine's potential to the maximum by finding best tool clamping, workpiece fixturing, cooling fluids and programming. Thus, we are constantly expanding our knowledge and can therefore competently support our customers, when it comes to efficient, high precision machining." This expert knowledge is essential to define the optimum manufacturing process. With this, Mikron Tool supports users who are looking for the best machining solutions for their projects. Based on the cooperation with DMG MORI, support can also be provided to customers who want expert advice on the manufacturing process and tool selection even before committing to a new machine.
The R&D team is enthusiastic, that a variety of customer projects from the medical sector are already in progress, and further very challenging enquiries are in the pipeline.
In the next few weeks, we shall present a series of components that can be processed efficiently on this machine with our tools, … we love crazy projects! 
For more information, contact us at test.mto@mikron.com.